To achieve lower production costs and improve durability of Fuel Cell Power plants, it is essential to develop a new generation of MEAs (Membrane Electrode Assemblies). Johnson Matthey (JM) developed a new fuel cell membrane-electrode assembly (MEA) for a flexible, grid-supporting hydrogen power plant. To achieve the project objectives, JM's MEA had to be durable, powerful, inexpensive and capable of flexible operation in response to changes in demand. Building on recent advances in automotive fuel cell technology and high volume manufacture at JM, it was possible to reach target manufactoring costs. Further enhancing the resulting MEA with measures to extend the lifetime.
The EU's VOLUMETRIQ project (FCH-JU grant no. 671465) devised a drive cycle partly based on the New European Drive Cycle. A Drive Cycle is a series of data points of speed of a vehicle against time that is design to simulate the standard behaviour of vehicle. Applying it to fuel cells, the profile is transformed into current vs time. Its shape is shown below

Due to its high varibility and changing load, is a great tool to evaluate performance and degradation of the membrane with load changes. The GRASSHOPPER MEA contained a 20 μm membrane electrolyte with a reinforcement, stabilised against chemical attack. As a result, the MEA showed a very high stability in drive cycle testing. The minimal loss of performance over the lifetime of the test, combined with a period of initial performance gain during CCM conditioning over time, led to near-zero measured degradation over 10 000 hrs.

The developed MEAs are being built into stacks by GRASSHOPPER project partners Nedstack FCT, whose stacks power the 100 kW pilot-scale plant, assembled by Abengoa Innovacion. Operating the plant over its lifetime will allow us to gather real-world grid-assisting power data for this fuel cell technology.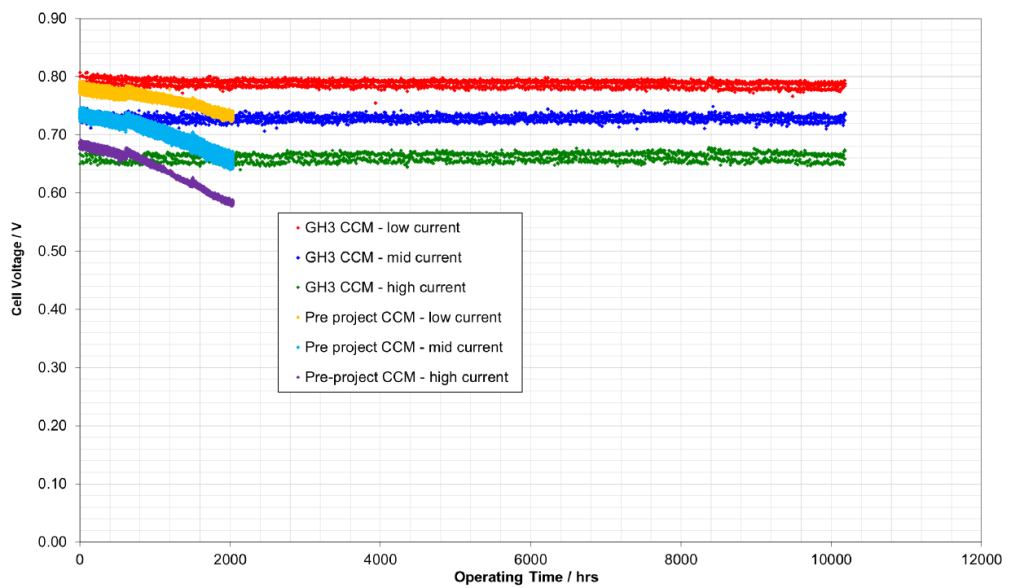 Read More