Flow Field simulations for a long lasting Stack
Fuel Cells are, in a nutshell, a REDOX reactor where a chemical reaction takes place. Therefore the correct distribution of reactants through the fuel cell is critical for a smooth operation. As a partner of the Grasshopper project, ZBT has focused a lot of effort on the design of optimal flow distribution. Including practical tests in their facilities in Duisburg, and very intensive 3D CFD flow field simulations.
This time, we want to share some of the results achieved on this topic. Specifically regarding the evolution of the flow in the channels when a blockage occurs. PEM fuel cells work at a reduced temperature, usually, around 70ºC degrees. This means that the produced water may condensate inside the channels of the stack, blocking the flow of Hyrodgen or Air in it. This could lead to fuel starvation, damaging the membrane where the reaction takes place. Therefore reducing the efficiency and life expectancy of the stacks.
A correct design of the channels and the GDL (Gas diffusion layer) are critical to mitigate this problem, and simulations are a great tool to reduce iterations and tests which are usually more expensive. In partnership with AVL, ZBT has carried out detailed 3D simulations of individual cells. Providing important information for the whole stack and the design of the flow field.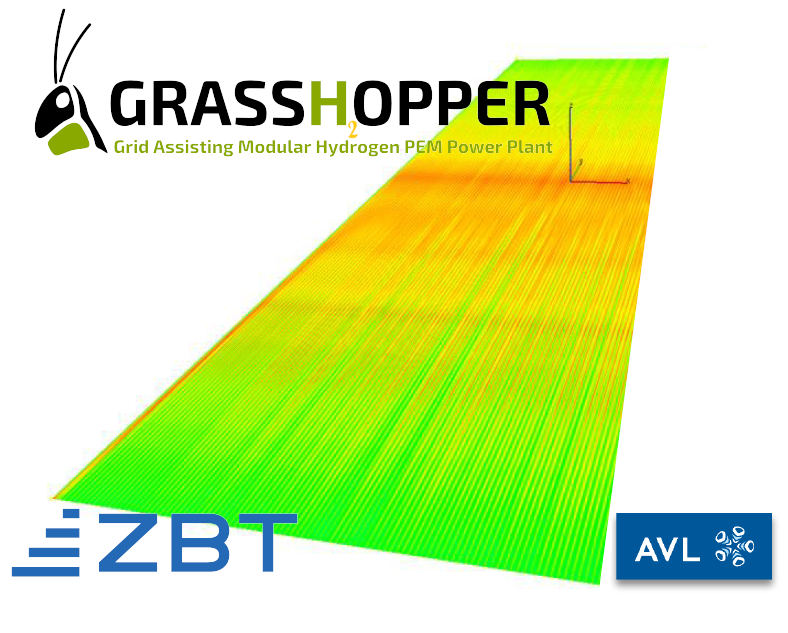 The results of the simulation show good promise towards developing a stack for maximized life expectancy. With a considerably reduced blockage impact of the condensate water in the channel flow. With this, Grasshopper is a step closer to reduce the Levelized costs of electricity produced on Hydrogen Fuel Cells in stationary applications.
Don't forget to check more about this in the ZBT and AVL website.
Related Posts