Why containerized Hydrogen Fuel Cell Power Plants make sense?
With the implementation of green energy alternatives and energy storage, there has been an increasing trend in using containerized solutions in those technologies that allow it. And not only Hydrogen PEM power plants, but many technologies have also joined this trend. One main reason for this is the great appeal of the "plug&play" philosophy, highly appreciated by the purchaser of the technology. But there is more than that for why a containerized Hydrogen Fuel Cell Power Plants make sense, and we would like to share it with you.
Scalability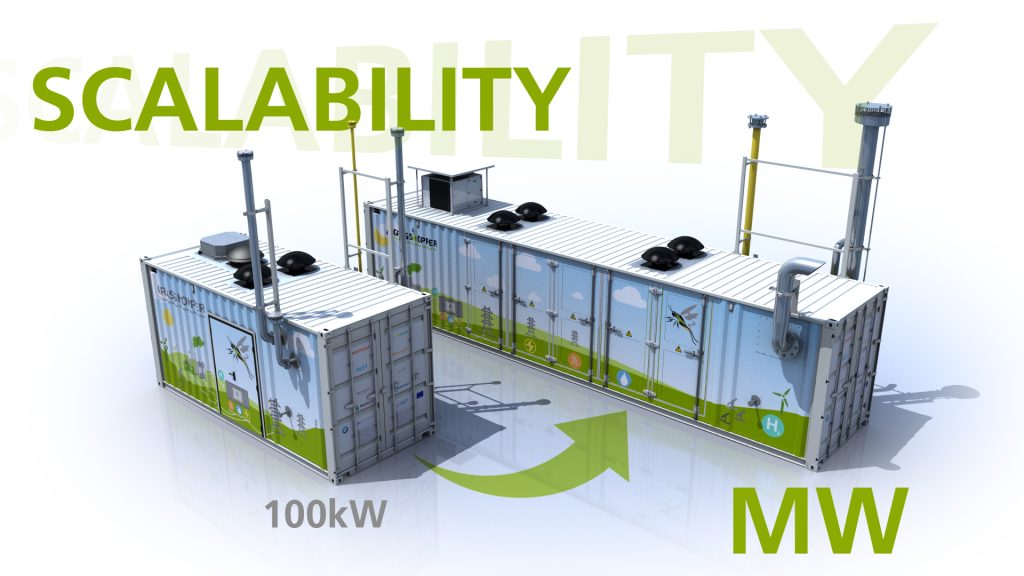 As the validation of the 100kW pilot plant finishes, We will carry out a MW scale design incorporating all the knowledge accumulated through testing. Even though the distribution of equipment inside may differ, the overall design doesn't change much. In fact, the pilot plant has been designed for scalability. More power means increasing the number of stacks installed in the container. But since all stacks share the same design, it is a simple "copy-and-paste" process. Adding additional racks and gas distribution manifolds. Not all equipment scale at the same rate, therefore, space can be optimized with larger designs.
Modularity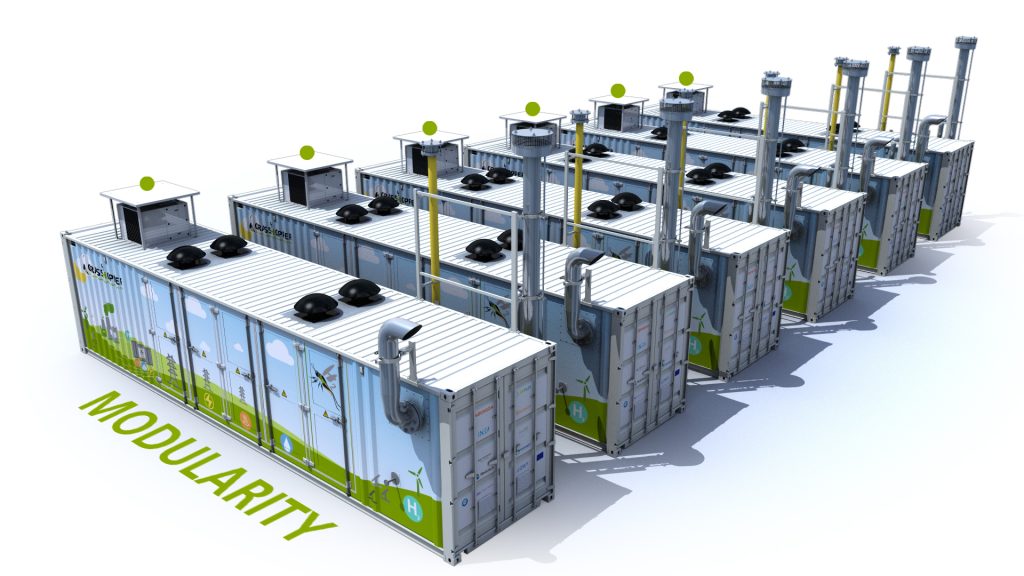 In a similar fashion, when the MW design is optimized and containerized, increasing the power of the plant is as easy as using multiple containers. Modular systems can be built, shipped, and installed quickly. This is ideal for the current increasing demand for Zero Emissions power systems. With an adequate sizing of the Hydrogen supply line and grid connection, multiplying the power is as easy as installing another container next to the previous ones. Adding a higher layer of control, adequate interaction between each unit can be achieved for maximum performance and efficiency, or maximize the lifetime of PEM stacks.
Easy transportation and Plug&Play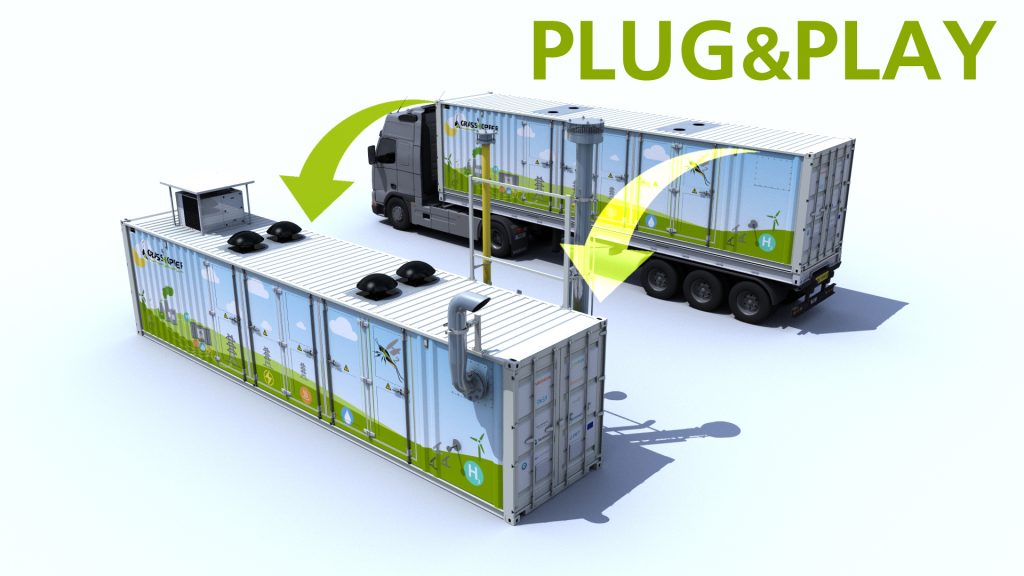 Probably the most noticeable benefit of having the plant inside a standard container is easy transportation and its quick installation. And this provides important flexibility. Containerized Hydrogen Fuel Cell Power Plants can be used in remote locations such as islands, mines, temporary buildings, encampments… Even as emergency generation units for many different applications such as data centers or hospitals. Providing a Zero emission alternative power source for such special needs. More and more of these plants are being installed in hard-to-reach places, or where the regular delivery of fuel has become prohibitive.
Not only that, but with a containerized solution, installation greatly simplifies. Forget about complex site preparations or connecting multiple units of different suppliers. Just drop the plant where you need it, connect the media and electrical interfaces and you are good to go. The electrical system, control architecture, and process, everything is packed inside. Since the container walls include these connections, no work, or minimal work, is needed inside the plant.
---
Transformation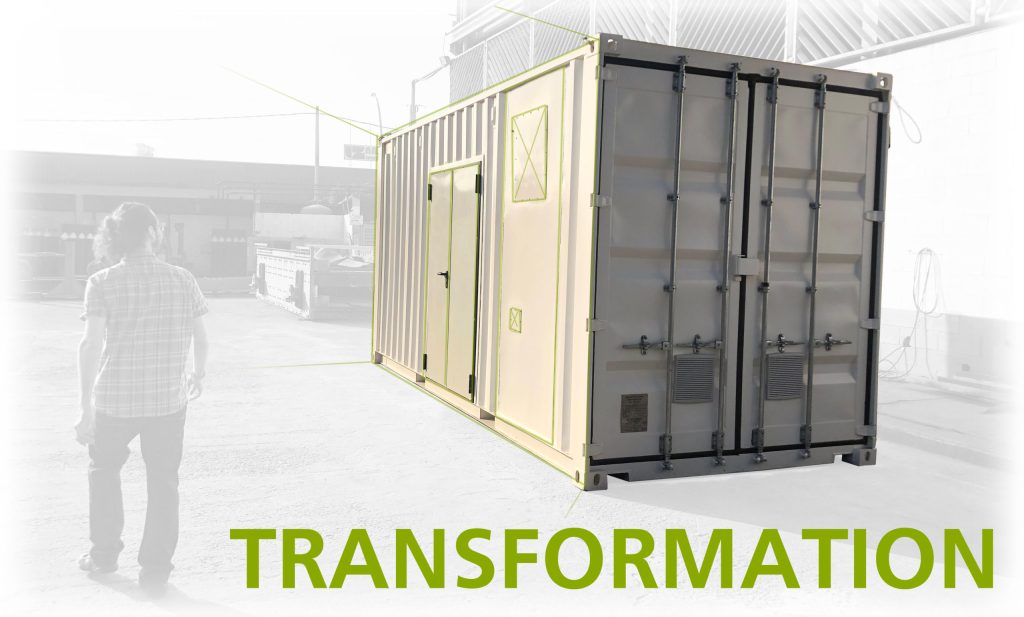 Last month, we finished the refurbishment of a standard shipping container to accommodate our needs. In the pilot plant, we have divided the container into two hermetically sealed sections. One for the electrical compartment and one for the process compartment. Media connections transverse the wall of the containers and junction boxes on the outside minimize the work inside.
The next question that arises with these units is regarding maintenance. Having all the equipment packed inside a container greatly reduces the footprint as we mentioned before, but it also reduces the available space for maintenance. This flaw can be overcome by designing an "extractable" unit. In case of a major maintenance operation, all equipment is pulled out of the container with a simple procedure. Then maintenance takes place outside.
Related Posts